Choose the space that's right for you.
Explore ALX Community's beautifully appointed workspaces, offices,
meeting rooms, event spaces, & wedding venues.
Elevate your work experience with your own dedicated space. If what you need is your own desk and a bit of storage, this is the right solution for you.
Our community brings together remote workers, 'solo-preneurs', and small businesses in an open environment designed for success and collaboration.
Try out the Flex or Private Office membership for a day, and gain access to our amenities such as the honor bar, free coffee and tea, and phone booths.
Coworking at ALX
Community
Inspired Lounge Spaces
Waterfront patio, lots of comfy lounges, and several private booths.
24 Hour Member Access
Access your space whenever you need it- 24/7. It is just that easy.
Dog-Friendly
Yappy hours, dog park in walking distance and lots of furry friends.
Private Phone Booths
Hop into one of our phone booths to make calls or jump on a Zoom call.
Private Meeting Rooms
Sixteen meeting rooms with state-of-the-art technology for groups of 2 to 120 guests.
High-Speed Wifi
Enjoy access to secure and speedy wifi.
Book Your Next Meeting at ALX Community
Did you know ALX Community has the most meeting space in all of Alexandria?  From small huddles to large conferences, our state-of-the-art meeting rooms are the perfect place for your team to focus their hustle.
Book Your Event at ALX Community
Whatever your reason for celebrating—whether a corporate party, wedding, birthday bash, or any other festive affair—you and guests will enjoy unparalleled views of historic Old Town, the twinkling Potomac, and the sights of DC.
WORK | LEARN | MEET | GIVE BACK | CELEBRATE
WORK | LEARN | MEET
GIVE BACK | CELEBRATE
ALX Community is #morethanaworkplace. As a member you will enjoy monthly happy hours, professional development workshops, health & wellness classes, and curated, hands-on opportunities to give back. Check out our next two events below.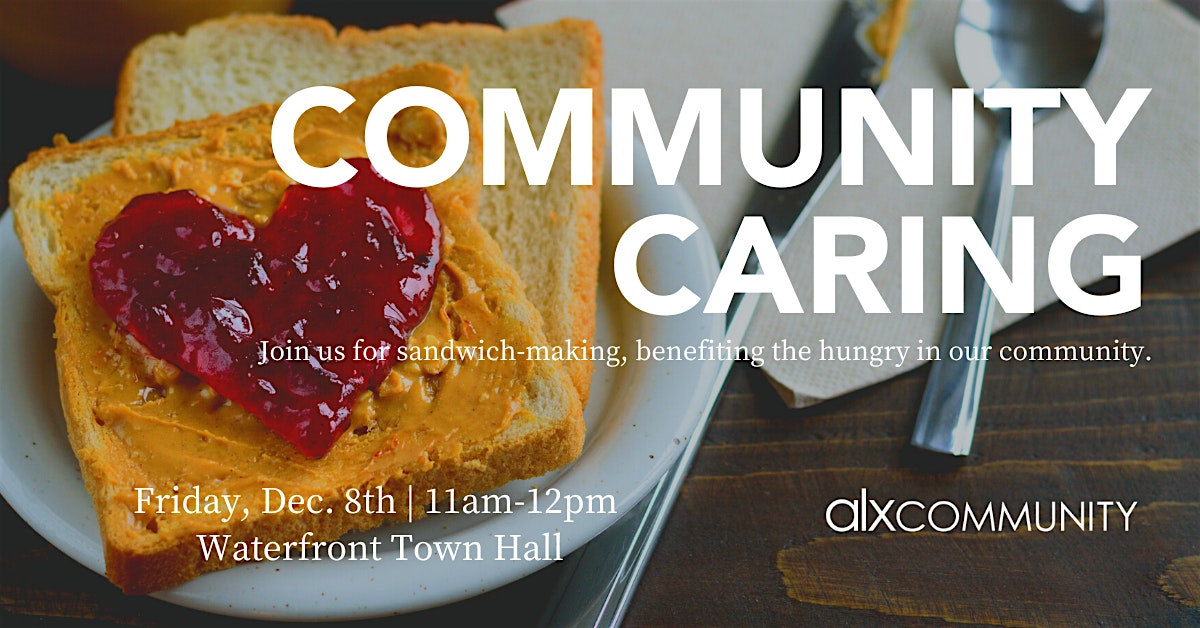 ALX Community - Waterfront
Join us for sandwich-making, benefiting the hungry in our community!
Read More »
I love my membership. I have always had to commute to an office and rush hour isn't as fun as you think. I am now working at a remote job and I get to walk to work. It's so freeing and exhilarating walking to work and actually liking the office and people. There are new faces every day and seeing friendly and happy dogs makes me smile. I never expected my membership to give me the opportunity to attend great workshops and network. When my job gets stressful, I know ALX Community will be there to brighten my day.
Jeanne
I can't believe how supportive every person on the ALX team has been. Down, or rather up to the owners! Every single person has reached out to me to find out what they can do to support the growth and success of my business! This has been so amazing!! Again, as in point #1 above, a challenge in owning my own business is feeling isolated and not having anyone to turn to. Not only do I now have the ALX group to turn to, they, in fact, reach out to me first! Amazing!!
Sarah
My business has gained visibility and credibility in Alexandria. I also have received several referrals from members and event attendees.
I am obsessed with coming to work each day at ALX. Because of the atmosphere, I show up more during my offseason than ever before. The team is a delight and I am proud to be a founding member!
Clair
Having the opportunity to connect with others in the community has been wonderful. ALX Community provides the environment where you meet other business leaders that you might not have met otherwise. It's a great place to share ideas and collaborate. The amenities make going to work significantly easier. The ALX Community team has a can-do attitude that seems to make everything easier.
Steven
The spectacular team at the core of ALX Community sets the tempo for it to be both a highly productive workplace and an actual community. They care deeply about the community of professionals they are building and the broader Alexandria community. Each day you can see them work hard to add value to each member/business as well as to grow their own. These values have attracted a similarly high-quality group of members/businesses that make it easy to go to work, work hard and enjoy it.
It's impossible to have a bad day if you work at ALX because it isn't just a community workplace, but a workspace that cares about the community. I feel like I can represent ALX everywhere I go in the community, whether through volunteering or chamber events. ALX is not for profit; it is for people. Specifically, our people. People who call Alexandria home, regardless of if you've called it home for a week or for decades. People really care about you here.
Brian
I love ALX Community because it suits my needs precisely. I drive into DC from Alexandria every day to my downtown office and I finally reached the traffic breaking point! How many hours of good work time were lost in that commute? Minutes from home, I'm at ALX Community where I can set up every Friday and get all of my work done.
The sound proof phone booths are great for calls, there are conference rooms should I have meetings, and best of all, there are great people working at ALX Community so I never feel like I'm isolated working alone from home. Plus, compared to some other spaces I tried, nothing measures up to ALX Community's modern design and amenities. This has been a great decision for someone like me who needs a co-working space one day a week to avoid the DC traffic gridlock!
Kristen
ALX Community has jumped into Old Town and become the hub for what's current and interesting in Alexandria by creating a space for ideas worth sharing. The dream team staff made it easy for me to host a lunch TALX, book signing and Healthy Happy Hour. They partnered with me in the process of hosting the events from inception to completion and made sure the experience was positive and successful.
We are incredibly happy that we decided to move our office to ALX.  From day one, we knew that we made the right decision. The modern open design, all of the amenities, and the variety of meeting spaces make it a great place to collaborate with colleagues and clients.
The entire ALX team is fantastic and has created an environment that inspires collaboration, creativity, and community.
ALX changed my life. I tell everyone who owns a business or works from home they need to invest in themselves by joining the ALX Community. Your business, and how you view yourself as a business owner, will never be the same once you do.